Librarians in the Los Angeles Public Library's Children's Literature Department love Halloween season and they celebrate by sharing their favorite books with the young and young at heart. Here is a sampling of some fun and slightly spooky reads for the youngest children in your life, specially curated by Madeline J. Bryant, Senior Librarian, Children's Literature Department.
Ghosts in the House! by Kazuno Kohara

A young witch moves into a haunted house and puts the ghosts there to work. High contrast black, white and orange illustrations and a warm, satisfying ending make this particularly good for preschoolers.

Not Very Scary by Carol Brendler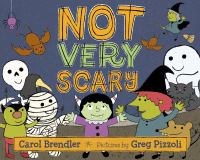 Melly the monster faces her fears as she encounters a host of creepy creatures while out walking on "the scariest night of the year". But she's not scared…or is she? Silly rhymes, alliteration and counting make this a great group read-aloud or for sharing one-on-one.
Duck carves a jack-o-lantern for Halloween but accidentally falls in. Pig and Mouse are then terrified by a scary "pumpkin monster". A laugh-out-loud crowd pleaser that fans of Mo Willems will appreciate.

A small robot-like creature lands on earth on Halloween night and fits right in with the trick-or-treaters. He moves in with Buddy and even helps him on a space project at school. A humorous Halloween classic.
For older kids craving a few more chills and thrills, try these gripping titles:

An action-packed adventure about growing up in a graveyard, being raised by ghosts, and escaping a killer, as told by master-storyteller Gaiman.
Night Gardener: A Scary Story by Jonathan Auxier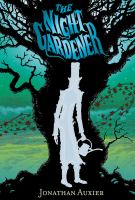 Irish orphans Molly, fourteen, and Kip, ten, travel to England to work as servants in a crumbling manor house where nothing is quite what it seems to be, and soon the siblings are confronted by a mysterious stranger and secrets of the cursed house.
Zombie Baseball Beatdown by Paolo Bacigalupi

While practicing for their next baseball game, thirteen-year-old friends Rabi, Miguel, and Joe discover that the nefarious activities of the Delbe, Iowa, meatpacking plant have caused cows to turn into zombies.

Deals with the Devil and the fight between good and evil are at the crux of this novel in which nothing is as it seems.  A sophisticated, historical thriller for tween readers ages 10 & up.
Find all of these spooky reads and more at the Los Angeles Public Library.